In the time of social distancing, communication is at a premium- especially in the context of a landlord-tenant relationship. The more efficient communication tools you use for your landlording business, the more likely you are to establish a trusting relationship with both your tenants and team members.
While in-person communication still isn't a safe way to interact due to the pandemic, digital tools are there to substitute traditional offline forms of communication.
From this perspective, we'd like to present you with three communication tools inside the TenantCloud system that will help you keep in touch with your residents and store business-related information in one place:
TC Messenger
TC Messenger is a built-in communication tool for connected TenantCloud users. The full list of contacts is divided into channels that help you stay organized and always find the needed information in a blink of an eye.
The vast functionality of TC Messenger allows users to share messages and files, print conversations, and receive notifications when a new message arrives. In case you need to archive a contact, the conversation will be archived as well. It'll be automatically moved to the Archived folder with all the conversation history saved in one place so you can view the messages whenever you need.

Related: Main Principles Of Effective Landlord Tenant Communication
More tips and information on TC Messenger can be found here.
Maintenance Requests messages
Solving maintenance problems with TenantCloud maintenance management is much easier thanks to the Maintenance Request chat that allows connected users to discuss work orders and attach images of the issues. The MR channel is created automatically on the tenant's side once you've submitted a work order, shared it with the tenant, and enabled that function in the settings.

Related: Ideas for Improving Landlord-Tenant Communication:TenantCloud Maintenance Management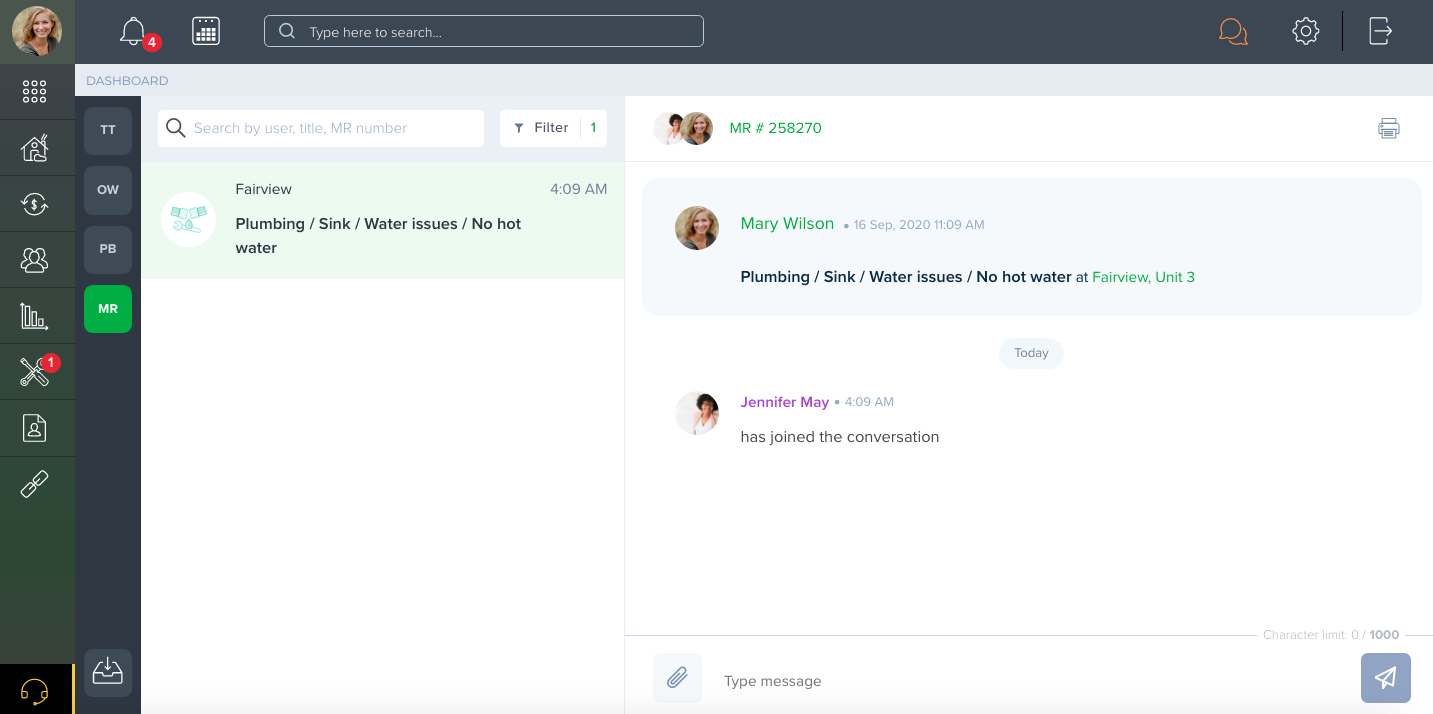 More tips and information on Maintenance Requests messages can be found here.
Property Message Board
For landlords and property managers, being able to communicate with all the tenants in the same property is a convenient and time-saving solution. For this reason, TenantCloud highly recommends Property Message Board. The feature is available for connected TenantCloud users within Advanced and Premium plans.
Conversations are not limited to discussing rent payments and scheduling home repairs. Landlords and property managers can share any kind of relevant information with their contacts, post job offers, list items for sales, etc.
More tips and information on Property Message Board can be found here.

Top 4 Tips How To Avoid Tenant Move Out Process From Your Rental Property