Typically, a landlord is going to have a primary lease document that may range from a single page to 30+ pages. The primary lease document is generally considered something like a "foundation" for the rest of the lease agreement including any associated addendums.
We're going to cover the primary lease agreement, as well as a host of lease addendums that many landlords and property managers use across the country – some of which you may have never even heard of but could apply to your rental management business.
The Primary Lease Agreement
A lease agreement is a contract between the landlord and the tenant. It states the terms of the tenancy, such as the length of the tenancy, the amount of rent, and who is responsible for paying for utilities.
Sometimes a secondary lease document (ex: Lease Addendum) should be used for things such as utilities to make sure that any special circumstances or conditions are addressed.
For example, at one property I managed, we had to have a separate utility agreement because the building operated on a central boiler system that controlled the heat for the entire building. That meant that none of the tenants in the building could control their own heat. This circumstance required an addendum to the lease so that the tenant could acknowledge and agree to the terms and conditions for using heat/AC throughout the year
In general, a well-written and comprehensive lease simplifies the life of a landlord. It removes emotions and any other influence from the equation. When lease violations take place, or difficult questions or requests come up, it's a simple matter of referring to the lease document with terms and conditions that both the landlord - and the tenant(s) - have all agreed to and signed.
Some of the things that should generally be detailed in the primary lease agreement include:
Occupancy Limits

Terms (yearly, monthly, etc.)

Rental Amount Owed

Due Date, Grace Period, etc.

Repairs, Maintenance Requests, Pest Control.

Property Access by Landlord/Staff

Illegal, Nuisance, or other Unwanted Activity

Pets: Aggressive Breeds, Weight Limits, etc

Commercial Use: Home-Based Businesses

Move Out Instructions & Charge Sheet
Common Lease Addendum
In addition to the primary lease document, you will also likely need to add on a series of addendums that complement or perhaps even expand upon some of the sections in the primary lease document.
Now, keep in mind that some of this addendum may or may not be permitted, or may or may not be required in your area.
Here are two examples of the extremely important lease addendum's that landlords across the country use:
Signed Move-in Condition Form
A move-in condition form is essential for establishing the condition of the rental at the time that the tenant takes possession of the property. If the condition of the property changes, you can easily compare the move-in state with the condition of the rental when the tenant moves out.
Signed Move Out Condition Form
It's extremely important to walk the rental property and document its condition the same day the tenant turns in their keys and gives up possession of the property. If something happens between when they turn in their keys, and the time you walk in - the tenant will likely not be held responsible. In addition, it's helpful to have the tenant sign the move-out condition form so that all parties involved have agreed to the condition in which the rental was left.
Other Common Lease Addendums to Consider
In addition to the move-in and move-out addendums, there are other addendums that come into play at various properties across the US.
Appliances Included With the Rental

Utilities Addendum

Subletting

No Smoking

Maintenance Addendum

Extended Absence by Tenant

Termination on Sale of Premises

Lease Termination Provision for Military Personnel

Tenant Assumes Responsibility for Maintenance

Battery Operated Device(s)

HVAC / Water / Ice / Pool Filters

Professional Cleaning / Steam Cleaning Carpets

Landscaping

HOA

Keys, Garages/Gates

Damages

Renter's Insurance

Break Lease Option (Buy Out)

Alterations

Pest Control

Home Businesses

Attic Storage

Renting Site Unseen

Appliance Maintenance

Fees/Violations

Duct Cleaning

Plumbing

Changing Locks

Play Structures, Trampoline, Pools, and Other Large Outdoor Equipment

Roommate

As-Is Appliances

Abandonment

Fireplace
Beyond these rental agreement forms, there are a host of other legal documents that are important for managing rentals as well. Some include third-party owner management agreements, service provider agreements, and other rental documents.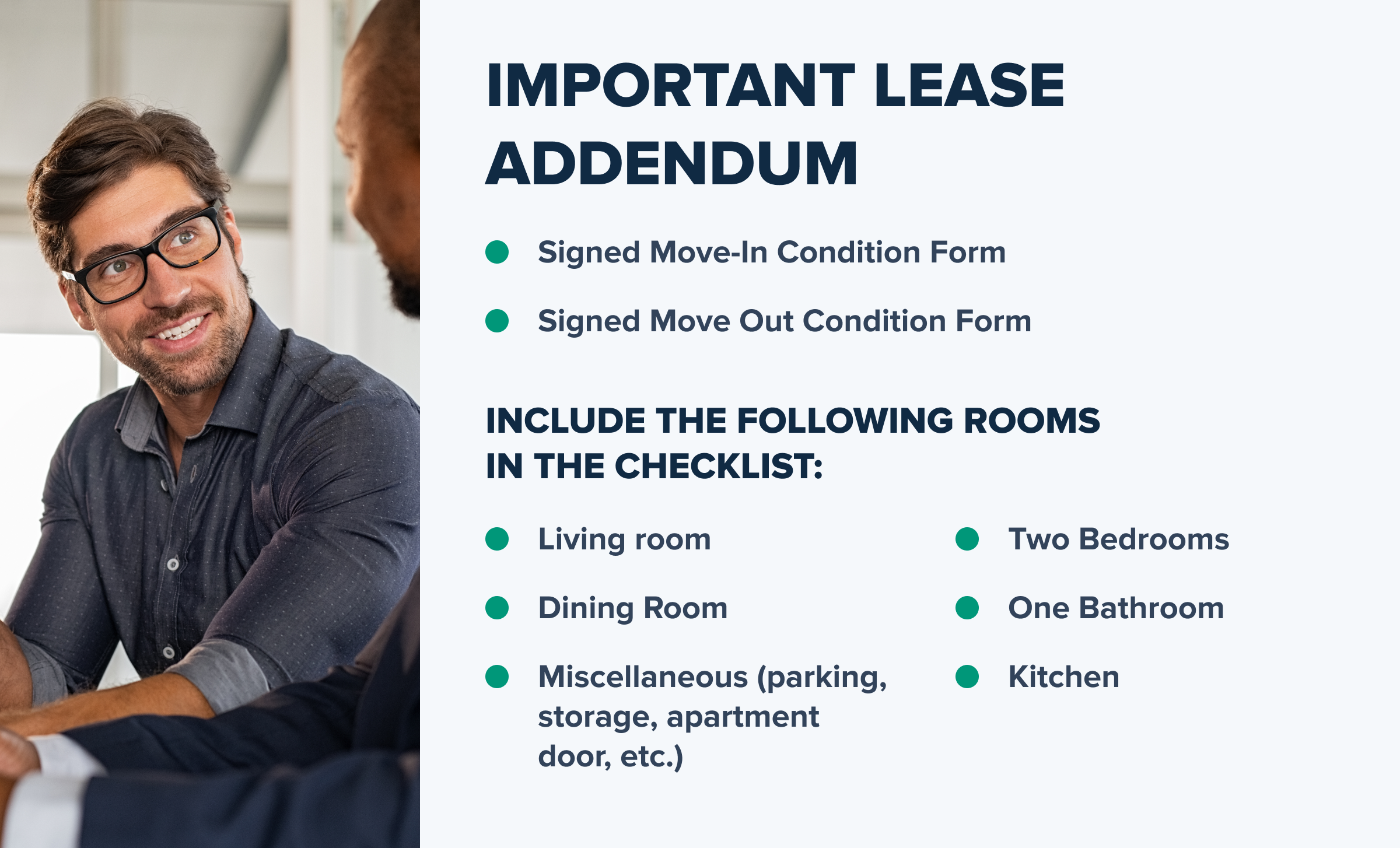 At the end of the day, the list of rental documents that every landlord should have is typically guided by the idea that it's better to be over-prepared, than under-prepared.
Problems rarely arise when we're prepared and expecting them, but thankfully, a thorough and well-designed lease agreement will be ready to back you up regardless of what gets thrown your way.
It's better to have a water-tight lease than to find out that there are holes all over, and the loopholes - or outright omissions - in your lease allow for nightmare scenarios to play out. These situations can end up costing you significant sums of money and/or frustrations.
---
Note: I am not a lawyer or offering any legal advice. The following information is a reflection of over a decade of experience in property management and some of the many lessons learned along the way. Every county, state, and city is different, so you must check your local state and federal laws as it relates to leasing documents you can or cannot use.