Every landlord prefers to select a tenant they can count on, and the first step is to ask the right questions. When leasing your property to a person or individuals, you should conduct an interview and seek specific information that will help you understand and get to know your potential tenants. This is a frequently suggested part of the tenant application screening process.

Asking tenant pre-screening questions before credit and background checks will surely save you time and money.
In this article, we've identified the best tenant screening questions to ask right from the start to help jumpstart your process and streamline the steps to screen the criminal and credit stories of potential tenants.
What Is Tenant Screening?
Tenant screening is an essential element of the leasing process since it ultimately decides whether a prospective tenant or company is granted or refused a lease. Both property owners and potential tenants need to understand what a tenant screening application is, and how to complete one.
Tenant screening helps landlords collect all relevant information about a possible renter, such as a credit check and rental history. Most landlords will search for proof that a prospective tenant will pay their rent on time and maintain the property to an acceptable standard throughout their lease period. Apart from that, landlords should always check for evidence of criminal activity, financial fraud, or evictions.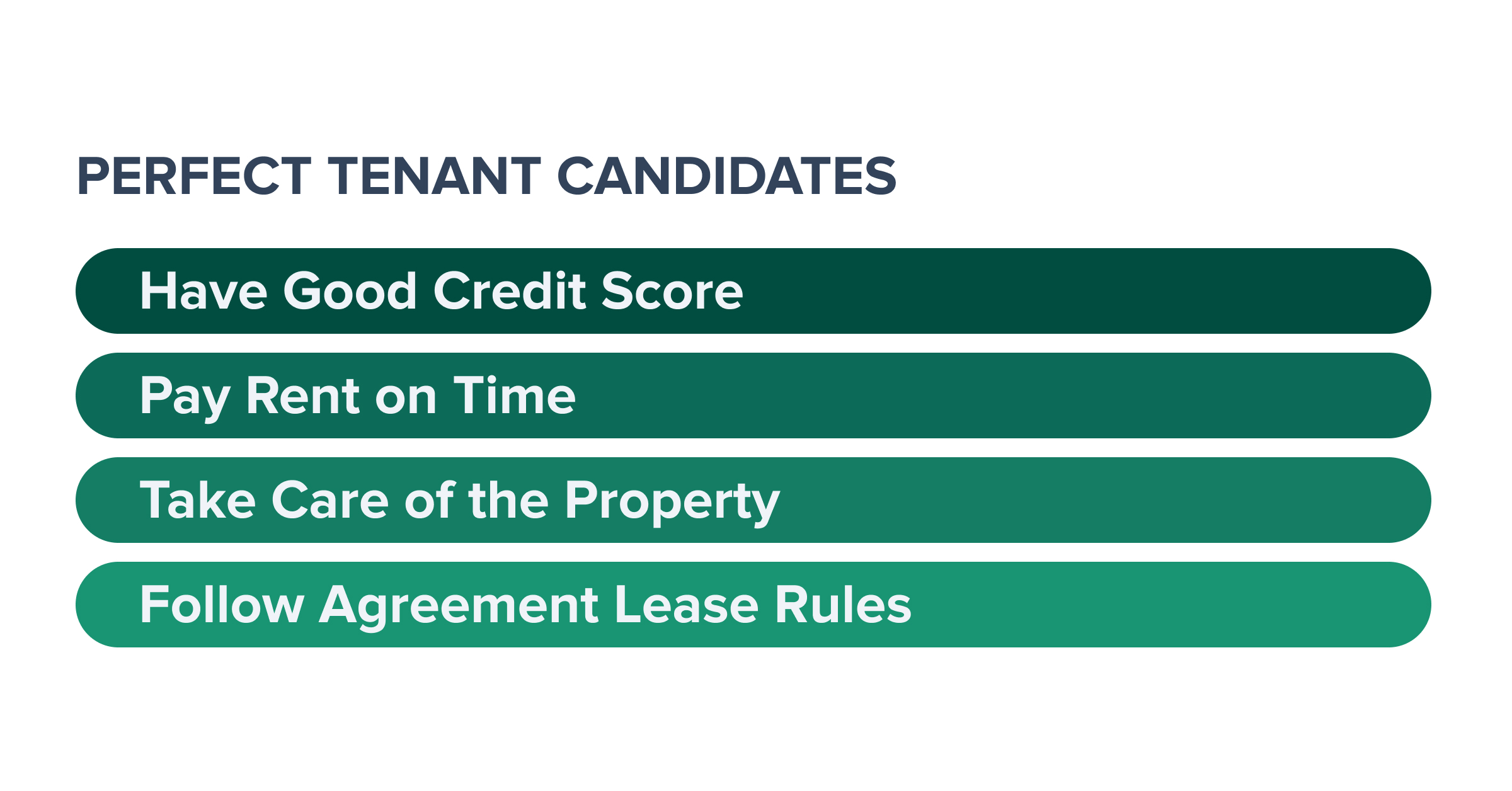 Pre-screening questions for tenants means removing any candidates who don't meet your original requirements and may not be as able to lease your home.
Pre-screening also helps you acquire better renters by allowing you to establish expectations for your leasing procedure early on.
Why to Ask Tenant Screening Questions?
Some landlords and property managers believe they don't need to ask many screening questions to rental applicants apart from those associated with finances, employment history, or rental history. However, it is critical to explore a wide range of questions to ensure that any misconceptions can be avoided before they develop.
Relying on essential information in an application will not provide a clear picture of a prospective applicant. As a result, set aside some time to ask several tenant screening questions that will assist landlords in concluding. Although it takes more time at first, investing the effort will surely help to prevent future problems.
10 Basic Tenant Screening Questions
Make sure to keep a record of all of the responses to your screening questions. It allows you to compare prospective tenants. Keep those responses on file for a prolonged period if a rejected renter accuses you of breaking the law or if you need to prove that a problematic tenant was dishonest throughout the application process.
Check tenants who express interest in the rental property with a set of tenant screening questions. To avoid being accused of prejudice, ask the same questions to every potential renter. These are the ten most important tenant screening questions for landlords to ask potential tenants.
When Are You Able to Move In?
While a potential tenant who wants to move in immediately may appear attractive, stay alert. In many cases, landlords demand 30 days' notification to terminate a lease, if a renter wishes to move in right away, anything could happen, such as the tenant getting evicted. Unforeseen scenarios may occur, such as a wage reduction, a job relocation, or domestic abuse, but in general, prudent renters will begin looking for an apartment at least a month before their proposed move-in date. It is essential to check both: tenant credit and tenant background checks.
The types of pets that landlords can approve may differ significantly. Even if you specified that you are a pet-friendly landlord, it's only natural to be curious about what you're getting yourself into; since a Great Dane puppy is not the same as a sleepy old lizard. Even if you may not have a no-pets policy, you should know about the type of pet, its weight, and its breed. Learn more about the pros and cons of being a pet-friendly landlord and pet deposit alternatives.
How Many Parking Spaces Do You Need?
This question is essential because it allows the property owner to make necessary preparations. Any landlord intends for their property to be attractive. Furthermore, parking spaces in an apartment complex or other rental properties may be restricted. Understanding how many cars will be parked at the property daily might assist a landlord in making a choice, particularly if they don't want cars parked on the sidewalk or occupying space that neighbors should be able to use.
Will You Agree to a Background and Credit Check?
Candidates are frequently subjected to background and credit checks by landlords. If a renter refuses to submit these checks, you may instantly remove them from your rental list. When the candidate submits their application, make sure they give written authorization to have these checks carried out - verbal confirmation is inadequate.
Does Anyone in Your Household Smoke?
Landlords have the authority to regulate or ban smoking everywhere on leased property, as well as within individual apartments if there are no anti-smoking regulations in place. Regardless of the health risks associated with secondhand smoke, landlords usually prohibit smoking to reduce the risk of fire, slash insurance premiums, and eliminate stains and odors.
A landlord can require that tenants sign a smoke-free addendum agreement separately if a lease or rental agreement has previously been executed without one.
What is Your Monthly Income?
For landlords, credit history and income are perhaps the most significant factor. It is crucial to know if the tenant is capable of paying the rent on time. For landlords, credit history and income are perhaps the most significant factor. Therefore, you should know if the tenant can pay the rent on time. A credit check is one essential aspect - read how to check tenant credit score?
Can You Pay a Security Deposit?
Tenants must submit the first rent payment and a security deposit in addition to their relocation costs. A security deposit assures landlords that tenants will follow the terms of the rental agreement, and there are tons of reasons why it is an essential part of the process.
A security deposit can cover the cost of repairs or be used as a fund reserve if a tenant does not pay rent for a given month. In this situation, the security deposit will not be returned when the tenant moves out.
If tenants can't pay a security deposit and you're not ready to waive the requirement, the screening procedure isn't worth it.
Why Did You Decide to Move?
This tenant screening question may provide a range of responses: for example, the renter is relocating for work, just married, needs more room, or wants a change of scenery. Regardless, this can provide the landlord with helpful information. It should be a major red flag if the explanation does not appear reasonable.
This question will enable you to understand why a prospective renter is moving. If the response given is suspect, you should deny their rental application.
Have You Ever Broken a Rental Lease Agreement?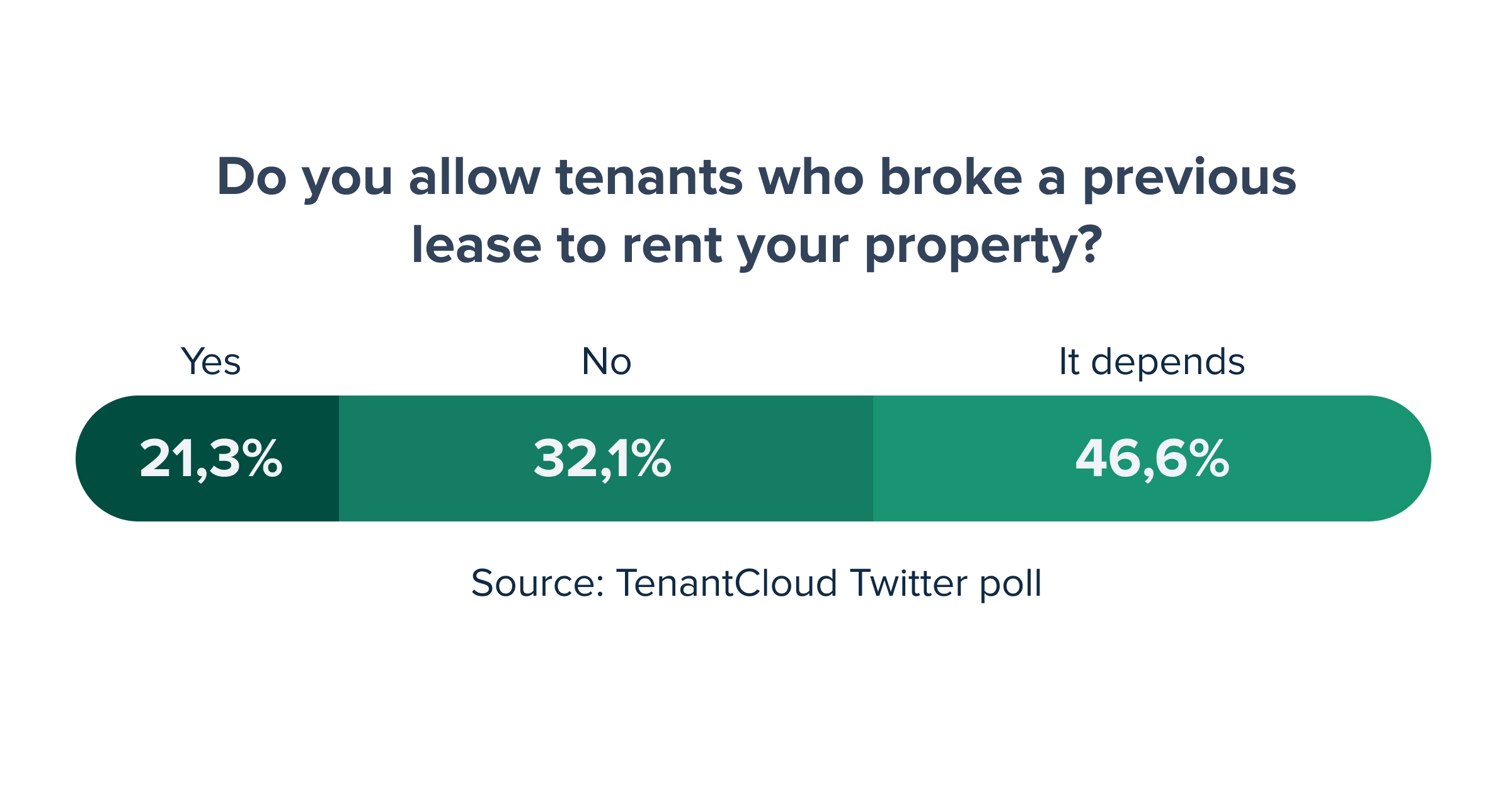 While asking this question, remember to be sympathetic and consider the entire rental application. A tenant with one broken lease but strong payment history and references is nevertheless likely to be a good tenant. Things happen, and while breaking a lease is never ideal, a renter may have had no other choice if they were laid off, had to relocate to care for a sick relative, or any other reason.
Have You Ever Been Evicted?
A comprehensive screening can help you answer this issue, but speaking with your potential renters in person will offer them the opportunity to clarify their position. Previous evictions indicate future evictions, so proceed with care and consider it a red flag if the answer is yes. However, because of the COVID global pandemic and the inevitable loss of income and late payments for many people, you must pay closer attention to each unique situation.
Get a Comprehensive Tenant Screening Report With TenantCloud
TenantCloud makes it easy to run a tenant background check to verify an applicant, check their criminal record, work history, past evictions, and more, thanks to a collaboration with TransUnion. Credit checks allow you to see a prospect's credit score and history. A background check, a credit check, and a search of National Eviction Records are all part of a full tenant screening report.
TenantCloud's background and credit checks are a proven method to identify the ideal tenants and be confident in the people who will be renting your rental property. You may shift your focus on other concerns as a landlord once you've ensured that your rental is in good hands.
Our software provides three types of tenant screening reports:
Full Check ($39) - provides the potential tenant's credit history from various sources, such as banks, credit card companies, collection agencies, and government authorities.

Credit Check ($30) - contains all the data about the applicant's credit history that a creditor would receive but in an easy-to-understand format.

Background Check ($25) - verify the person according to who they say they are, and allows you to examine and validate the accuracy of their criminal record, education/job history, and other key information about their past.
The Bottom Line
We highly recommend running a full background check with pre-screening questions to strengthen your decision-making. Candidates may intentionally give confusing answers, have a selective memory, or pull responses out of thin air if they aren't sure.
Pre-screening questions are a simple approach to attract preferred tenants, screen them, and save time in the long run.
Important to remember!
There are a couple of questions that landlords are not allowed to ask potential renters because of the Fair Housing Act (FHA).
Discrimination based on age, country of origin, marital status, sexual orientation, and other details is prohibited by the FHA. Check local and state landlord-tenant laws for extra precautions, and do your study on the FHA ahead of time to understand more about what you are not allowed to ask renters.