When tenants search for a more convenient method to submit maintenance requests and an easier way to make rent payments, it is crucial to understand their specific requirements and preferences.
Consider this: today's rental landscape is significantly shaped by the younger generations, forming a majority of renters, with their numbers exceeding 22.8 million. To truly connect with your tenants and better understand their needs, it's essential to tune into their preferences and trends.
Let's go a bit further into the Millennial and Generation Z mindset.
They practically breathe modern technology. U.S. millennials are increasingly optimistic about the possibilities of renting, with 24.7% expecting to rent in 2022 compared to 21.6% in the previous year.
According to the latest research, in 2022, over 74% of renters used mobile devices to search for their new rental. The tenant portal app is made to improve their daily rental experience, making essential tasks like paying rent as easy as a few clicks on their smartphone—no need to leave home.
So, as a landlord, how can you help tenants seeking an easier, more efficient way to manage their rentals? It's straightforward: provide them with access to a tenant portal. It's your key to a seamless, tenant-centric renting experience.
What Is a Tenant Portal?
A Tenant Portal isn't a mythical rabbit hole, it's a personalized online account where they can easily manage their rental life. A user-friendly tenant access portal that works as an all-in-one solution to apply online to the desired property, sign documents, receive notifications and pay rent online.
Why Do Tenants Need an Online Tenant Portal?
The online tenant portal is like having your own digital assistant, which doesn't need a cup of coffee in the morning and works on holidays. With the help of a tenant web portal, you can effortlessly keep tabs on financial transactions, take care of renters insurance with a few clicks, and access all leases and addendums whenever you need them from your laptop or smartphone.
If you are unexpectedly facing a leaking faucet, the portal allows you to submit maintenance requests, providing fast responses from your landlord or property manager.
TenantCloud Tenant Portal. Let's Get Started!
Navigating the TenantCloud tenant dashboard is a breeze, thanks to a user-friendly, simplified dashboard.
Connect with each other in minutes.
Tenants and landlords can connect even if one doesn't have an account. Simply accept or cancel new connection requests from the Feed Notifications page or send invitations via email.
Search, like, and rent!
Your renter journey takes on an engaging twist with the "Renter Profile" page. It's like setting up your social media feed but for rentals – set up your ideal property criteria and watch the daily rental suggestions roll in. It's like scrolling through your feed on Instagram, but instead, you're searching for your future rental home.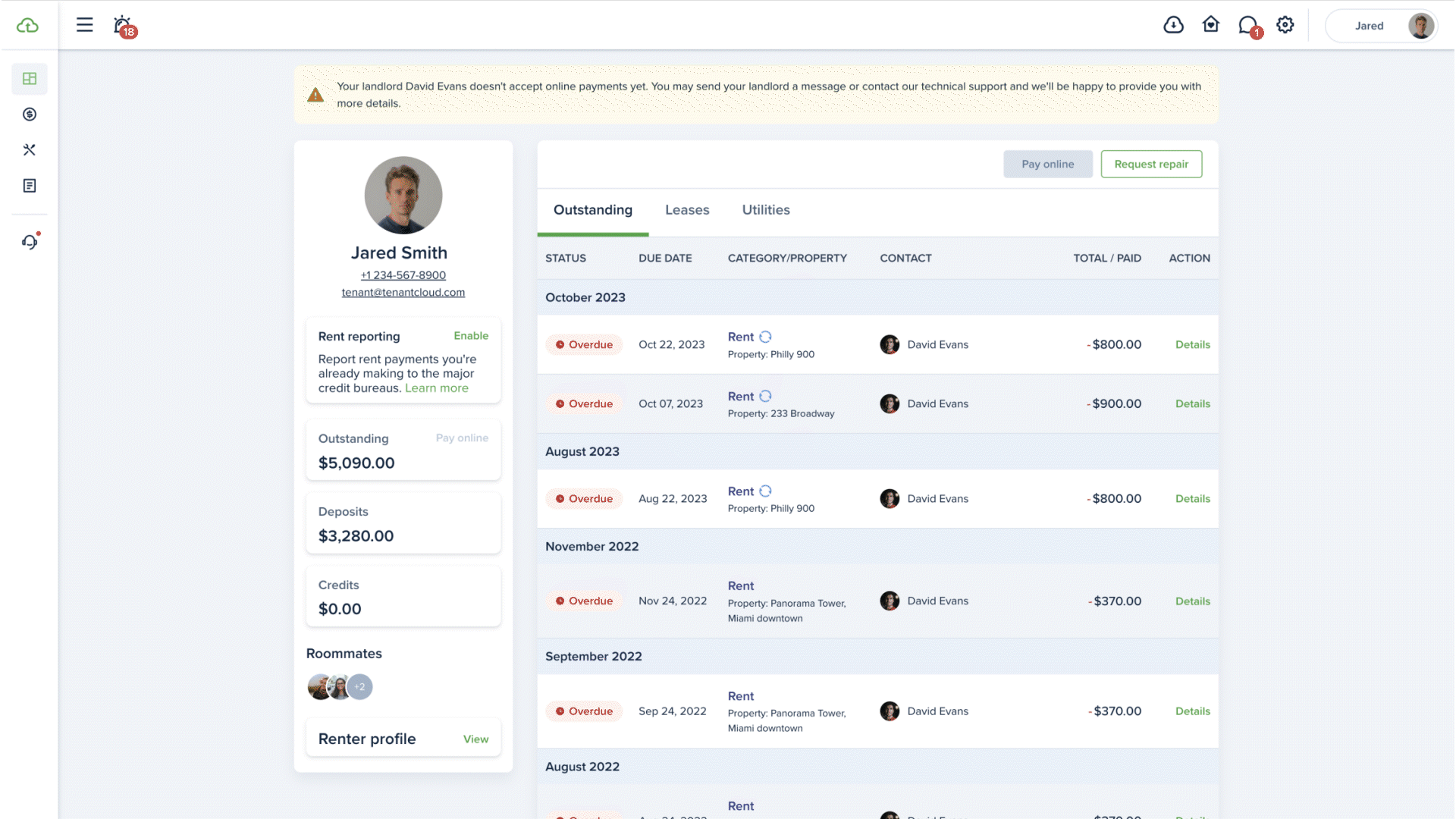 Browse available listings with a map that matches your criteria, save it with a heart, and return to the ones you liked at any time. It's as easy as filtering posts on your timeline; customize your search to your heart's content. You can even apply to properties with a friend as a co-applicant!
Pay rent and sign documents without the drama!
Paying monthly rent is simplified, and tenants can even build their credit history by reporting these payments to credit bureaus. Plus, you can easily track all your expenses and monitor transactions. Link your bank account and keep tabs on your rent payment history without a hitch. Multiple payment options are our top priority; you can use whatever method, from debit and credit cards to e-checks.
Signing lease documents becomes hassle-free, eliminating the tiresome paperwork. Need a nudge for rent or reminders for upcoming lease renewals? No problem! The tenant portal can also handle that, helping you stay on top of your financial responsibilities.
But it doesn't stop there—our portal is a multitasker. It also handles security deposits, pet fees, and occasional payments. Any data you put into the tenant portal instantly syncs with our system, sending you real-time notifications and ensuring you're always in the loop and ready to act.
Maintenance with no headache.
Something went wrong with the appliances in the rental? The ACH stops working in the middle of the summer heat, the washing machine eats your clothes, or you find yourself swimming in a pool instead of your bedroom? Take your phone, snap a picture of the problem, submit a maintenance request, and wait till a fairy service professional deals with everything.

Strengthening Landlord-Tenant Bonds with Tech Charm
TenantCloud Tenant Portal centralizes all your information and adds a personal touch to every facet of your rental adventure, enhancing efficiency and reducing stress. It's like a business handshake, ensuring a partnership that'll last a lifetime.
Tenant trust is just a click away: Try TenantCloud's free trial today.