How to Use Document Templates
August 07, 2019
Being a landlord you probably know how important it is to keep track of all documents. TenantCloud has made it easier to help you do this. All your documents (along with other files) are stored in the File Manager of your TenantCloud account. File Manager is one of the best variants to store documents, as you always have instant and secure access to view on any device. Plus, all files are stored and sorted by property or unit for easy navigation.

Document Templates
Finding a new tenant can be a unique experience, but the lease they sign is usually exactly the same. To save time from recreating a lease every time you have a tenant TenantCloud Templates can help. Now you are able to create various document templates and TenantCloud will generate the document customize to any specific tenant. It doesn't have to just be lease agreements. It can also work with pet agreements, disclosures, move in letters, welcome notices, inspection notices, late fee notices and more. Go to Settings→ Document Templates → +add template to find this awesome tool.
How it works
By pressing the +add template button, you'll see a blank space for your document on the left, and the autofill-elements in the right. Type or paste the text of the document and drag the violet autofill-elements to any location in the document of the template. These autofill-elements will auto-populate custom content like your tenant's name, address and more. You can also create two different types of templates - Notice or Agreement. Notice is for general letters, while agreements can include e-signature. Once you give each template a title you are ready to create that template for any tenant.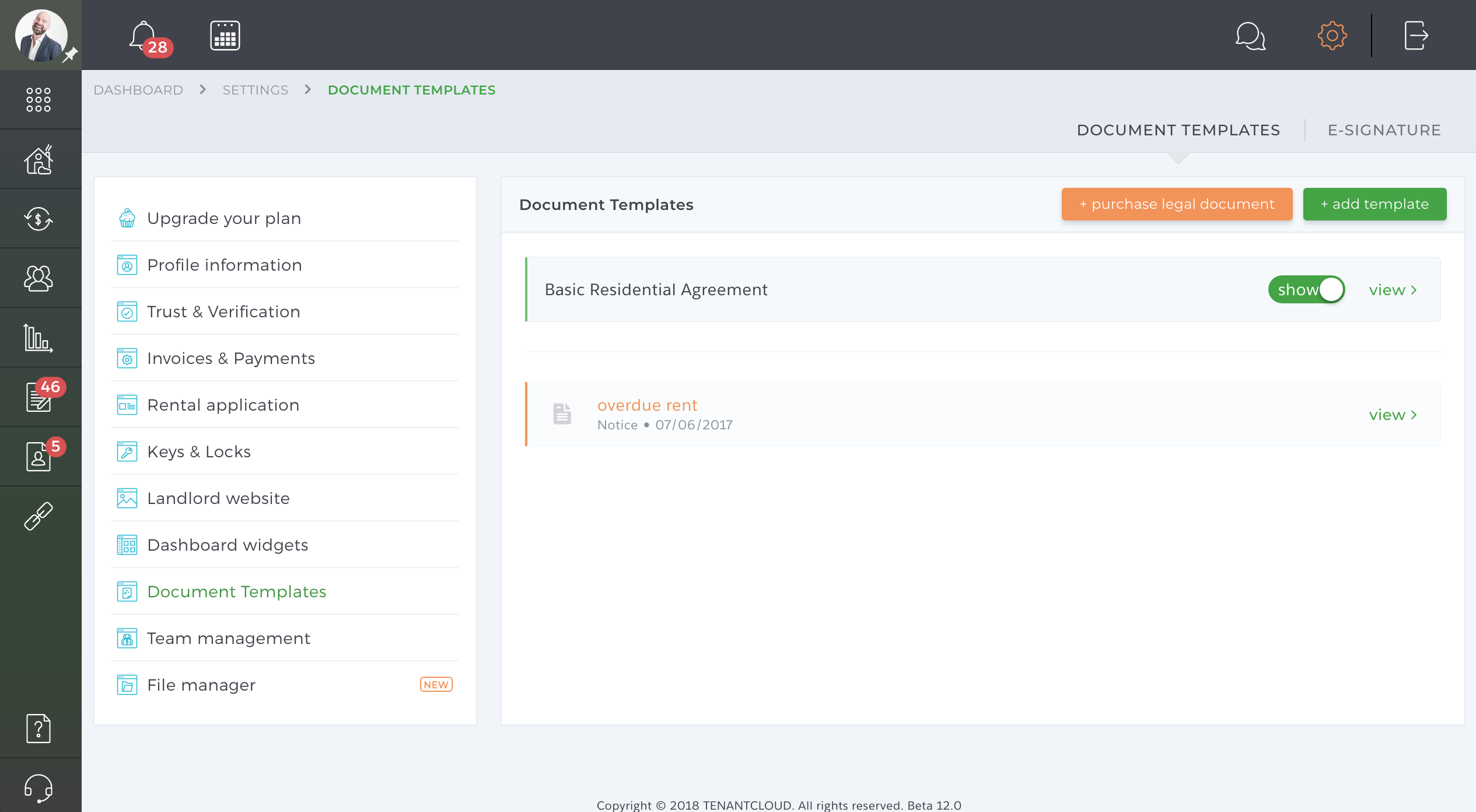 Notice or Agreement?
Use Notices to send to your tenants when you want to generate a quick letter, for example, a welcome letter when tenants move in or rent increase, etc.
Use Agreements when signing a lease with tenants.
You can also add attachments to any template and when that template is generated it will automatically include the attachment. This is great for disclosure, so the tenant can sign the statement, but have available any reading material issue by local governments as attachments.
Basic Residential Agreement
We've created a basic template for you already - Basic Residential Agreement. It is added to your document templates by default and is not intended for actual use, but for showing how templates work. You can add to it from there:)
Need a legal document?
Purchase it. We partnered with Legal Nature, an online service that helps to create any legal document you might need for your business. So you can buy any document using your TenantCloud profile and be sure that they are up to date, legally sound, and binding.
Here is the list of documents which are the most popular among landlords:
Eviction Notice

Lease With Option To Purchase

Month-To-Month Residential Rental Agreement

Notice To Quit

Notice To Vacate

Rent-To-Own Lease Agreement

Residential Rental Application

Tenant's Notice Of Intent To Vacate Premises

Choose the one you need, press Buy and it will be saved to your computer.

To learn more about document templates, please read our FAQs:
How to add Residential Agreement template?
How to purchase a legal document powered by LegalNature?
How to edit my Notices Templates?
How to send a note to a tenant?
How to view my Notices Templates?