The truth is, pet-friendly landlords get more applications from potential renters. Additionally, rent prices of pet-friendly apartments are higher in comparison to similar housing that doesn't allow pets. This means you can potentially increase your rental income by allowing tenants to keep pets in your rentals. However, a pitfall arises - if you don't specify the type and size of pet you will allow in your rental property, you might accidentally bump into a baby alligator or a kangaroo in your rental.
Certain unusual pets can be good for small apartments, however, you should always require a security deposit to cover possible high maintenance costs. Additionally, potential home damage is not the only risk. Some wild animals cannot be fully domesticated and could put yourself and others at risk. Although exotic pet attacks are rare, they are not unheard of, and happen occasionally across the country.
Only 6% of America's captive tiger population reside in zoos, leaving the rest within private possession. Could there be a chance your next tenant applicant is looking to co-rent an apartment with his or her pet tiger?
As certain unusual animals are legal to own as house pets, you should always make sure you know your state's rules and restrictions. Here you can get acquainted with the exotic animal laws according to each state. According to the list, in Arkansas you can keep a wolf as a pet but no lions or bears are allowed. Oklahoma allows owning wildlife with a specific license.
Take a closer look at the stats related to exotic pet ownership in the U.S.: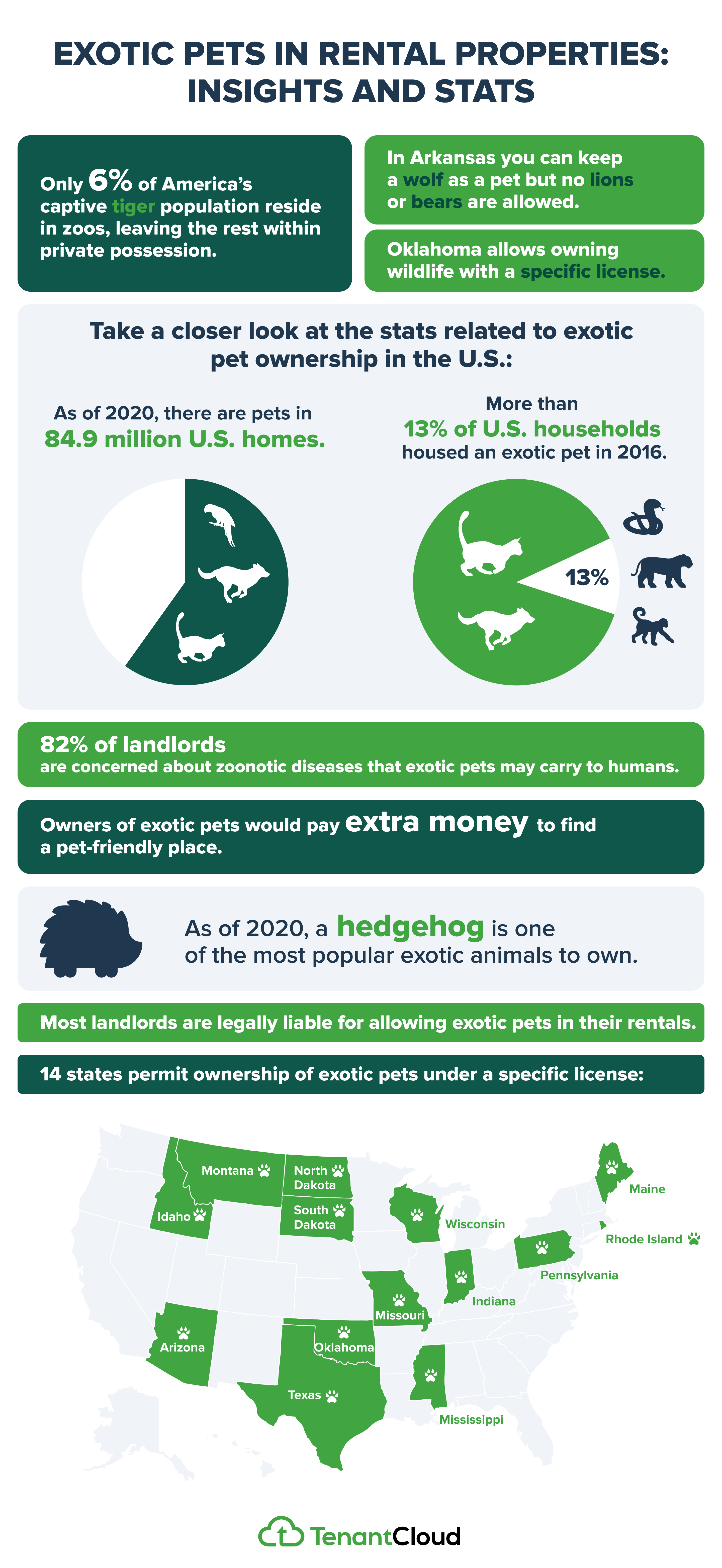 Would you allow exotic pets in your rental? If not, what is your biggest concern?
Sources:
Should I Allow Pets in My Rentals?
The Tiger Next Door: America's Backyard Big Cats
Pet Industry Market Size, Trends & Ownership Statistics
Latest Stats on Pet Ownership and Veterinary Care
Map of Private Exotic Pet Ownership Laws
Landlord Pet Policy: How To Secure Your Rentals From Pet-Related Damages?
Is It Legal To Charge Pet Rent And Pet Deposit: Few Things To Consider In Rentals