How do I renew a lease?
In order to renew a lease, first go to "Contacts" in the left side menu of your dashboard. The drop-down menu display should show the "Moved In" list of tenants. Find the necessary tenant and click on the "LEASES" button next to the tenant:
Press "More details" for the necessary property (in case there are leases for different properties) and select the "Renew Lease" option from the three dots menu for the specific lease. If you press the "Confirm" button, the system will automatically end the current lease on the end date and will create the new lease for the future. You will see the new scheduled lease renewal with all the information.

Please note!
If the lease type is "Fixed," the system will end the lease on the original end date and stop the recurrent lease invoicing. The renewal date should be the day after the end date of the current lease. The current lease will remain active until the end date, and then a renewed lease will go into effect. If the lease type is month-to-month, the current lease will remain active until the renewal start date.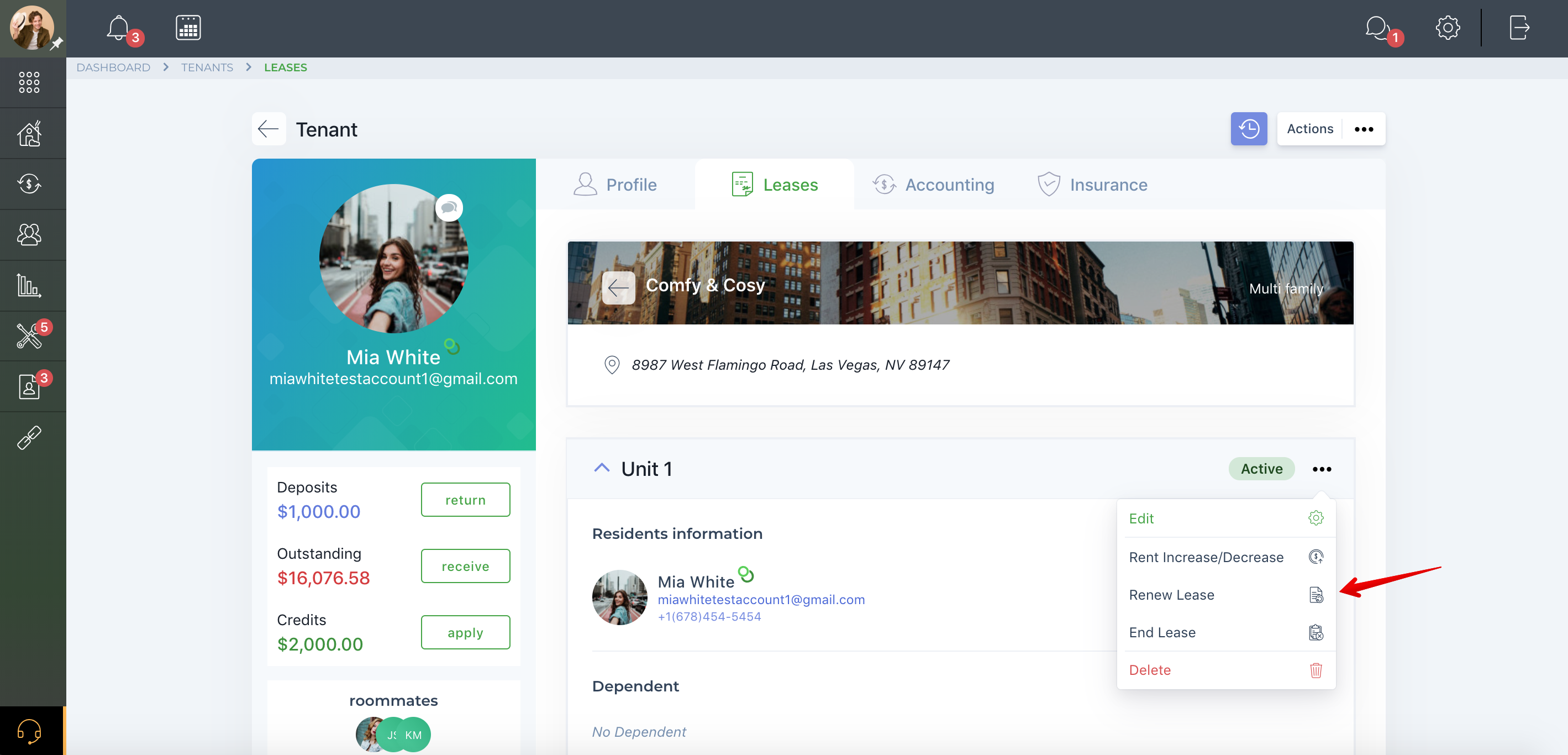 On the renewal page, you can disable or enable the automatic recurring invoicing, change the schedule, and add a due date for the new lease.

You will also see the amount of deposit held and can add any additional invoices needed. The Other Lease Recurring Transactions section shows all the recurring invoices linked to this lease. You can add more transactions below.

Please note!
If you want to stop the current recurring invoices and not include them in the renewed lease, it must be done from the main transactions page or the tenant's accounting page on their profile.
This might be helpful:
Make sure you've made all the necessary changes for the renewed lease, complete all the steps, and then press "Create" or send to sign (if you require the tenants to sign the renewed lease) to schedule the renewal.
Watch the video guide to learn more:
Last updated:
Apr. 11th, 2019